Category Archives:
Miscellaneous
Random topics I choose to talk smack about from time to time.
I wonder if this will be referenced at all during Injustice 2?
Well, let's see. We've lost, in no particular order and among MANY others…
Richard Adams
Alan Rickman
Alan Thicke
Prince
Carrie Fisher
Zsa Zsa Gabor
Gene Wilder
Leonard Cohen
David Bowie
John Glenn
Harper Lee
George Michael
Muhammad Ali
Anton Yelchin
Kenny Baker
Elie Wiesel
…Also, an idiot got elected President of the United States, and, on a more personal note to me, my mother had to spend close to a month in the hospital. And I'm sure a bunch of other horrible shit that's gone down… … …Yeah, this is deserved. If I could maybe have some appropriate music, though?
Got a message for 2016 of your own, or perhaps want to share something positive that happened to you this year? Leave it in the comments below, and let's all hope and pray with all of our souls that 2017 will be better. Ja né!
Yup, I'm still doing this. lol That said, compared to what I had up, I've made quite a few new Captain Ersatzes on Deviant Art, and I owe a lot of that to my readers who voted on who they'd like to see me make expies of. I'm still going through the list, but here's a look at what I've posted since I started taking requests…
…BUT, as anyone who has been to my Twitter knows, I've still got maybe one or two left to go. Specifically, I decided to go ahead and make counterparts for the Justice League. And, because you guys went ahead and helped me out with this, here's an early preview…with appropriate music. lol
Anyway, with that outta way, there's another poll I'd like to present. Basically, now that I've done a few counterparts of Batman's rogues gallery, I was wondering which group of villains I should do next. So, by all means, vote below on which rogues gallery you'd like to see expies of next, and we'll see what happens in a week's time. Ja né!
So, as I announced on Deviant Art, I'm planning to make Captain Ersatzes via HeroMachine 3 and posting them online. If you don't know what a Captain Ersatz is (and you're too lazy to click on the link to TV Tropes, lol), basically, they're kind of knock-offs of previous existing characters and properties. And before you point out the general track record of these, lemme point out that BATMAN is technically one of these for Zorro. Plus, it's not like I'm making money by posting these on Deviant Art. I'm just doing this for funsies.
So, why am I asking for feedback here? Well, specifically, I wanna know which characters you'd like me to make expies of. Also, since Green Defender is sort of Batman with powers, which members of his rogues gallery would you like me to make counterparts of, and just any other ideas, thoughts, suggestions, etc. you might have on the subject. Either way, let me know in the comments below, and be sure to check out my various HeroMachine 3 creations (knock-offs or otherwise) by clicking the link under the image below. Ja né!
irondan13's Blog
So around the time when DC revealed that one of the first Batman cross over stories would feature Batman fighting against Kaiju which is something that off the bat I found gripping. I am a huge fan of monster movies and Batman and I was glad to see how good of a series this has been.
A slight bit of back story first, a few issues prior in the Batman series Robert Castro was in Commissioner Gordon's office spouting off ramblings of pretty much madness and says that the 'Monster Men are coming' and then kills himself. Flash-forward to current day and here we have the start.
Batman #7: The issue starts out in a four panel page that goes from the exterior of the Tolliver Memorial Morgue and goes further in and shows four bodies lying on slabs whilst a radio announcer warning people about the storm that is…
View original post 3,487 more words
kantopia
View original post 451 more words
So, if you've followed my blog for any lengthy amount of time, you're probably wondering why there hasn't been a lot of full articles as of late, and instead, I've mostly been posting vlogs of myself and N. Harmonik. Well, there's a few reasons for that, but namely, I thought I'd address what I've been up to online in lieu of blogging. Because I haven't just been sitting on my ass… … … …Well, okay, I guess technically I have, but I HAVE been doing stuff while on it.
First off, one thing I did recently was write a Pokémon fanfic for my niece. You'll recall, she recently celebrated her 10th birthday, and I decided that, as a belated birthday gift, I would write a fanfic with characters loosely based off of her, me, N. Harmonik, and a few other people we know as the main characters. I even posted it on Fanfiction.net, so if you wanna check it out, I'll leave a link just below this paragraph, so just click on it and it'll send you on your way. Just know this: It's a Pokémon Go-inspired fanfic (albeit very loosely) written for a 10-year-old, so while I wouldn't call it my worst work (I'm very thankful that none of you have ever seen my worst work, lol), I wouldn't necessarily call it my best work. In fact, I'm contemplating going back and doing a revision of it later on. For now, though, do me a solid, read the fic, and lemme know what you think of it.
https://www.fanfiction.net/s/12178992/1/The-Mew-Mechanation-A-Pok%C3%A9mon-Go-Story
I've also been playing around with JTmovie's Superhero Creator 2.0 and making various DC Comics characters on it, which I've posted to Deviant Art as Devious Fun Adoptables. You can see them all by clicking on Superman…
…and you can also let me know if you would like me to try to make anyone specific.
http://jtmovie.deviantart.com/art/Superhero-Creator-2-0-MALE-Dress-up-Game-530676189
http://jtmovie.deviantart.com/art/Superhero-Creator-2-0-FEMALE-Dress-up-Game-530676227
And lastly, I've been working on writing a few different projects at once. And I know, I tend to get very bothered by leaving certain stories to work on something else. But now, I've just decided "screw it, I'll write stuff in batches". So I'll write a lot of Guardians of Gaia, and then I'll write a bunch of Primal Strife, and then I'll do some other project, and then it'll eventually come back around to GoG and continue on in a circle.
Anyway, that's all I've really been up to online, but don't worry, I AM planning to try to get back to blogging. In particular, I got my hands on Volume 2 of The Darkseid War, so expect the long-awaited review of The Darkseid War to come soon. Until then, check out the other stuff I've been up to and lemme know what you think of it. Ja né!
…Yeah, I'm just gonna come out right here and say something: This article is about My Little Pony: Friendship Is Magic, and talks about whether we should have an LGBT pony. If that doesn't appeal to you, do us both a favour and don't read. Don't read, don't comment, and I will have no problems with you whatsoever. I know it can be seen as a strange subject, and even if not strange, if there's one universal constant I've found in my lifetime, it's that nothing is for everybody, so no hard feelings, really.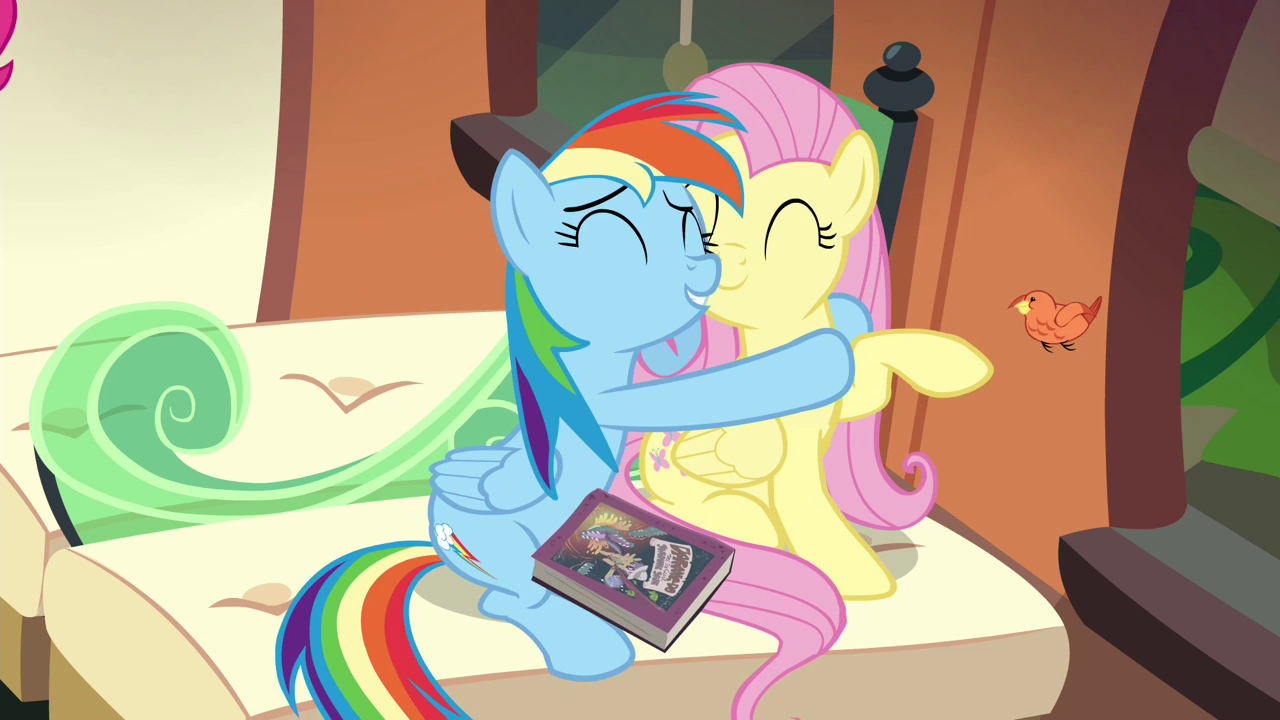 So, something caught my attention a while ago. Apparently, there was a writer working for IDW who said that Rainbow Dash and Fluttershy being in a romantic relationship should be canon. I'm not gonna get into that discussion much more, other than stating that, despite being an outed Flutterdash shipper in the past, I know that having the obvious tomboy and the introvert come out as a couple could be seen as a stereotype. Rather, instead, I find myself wondering why, whether it's these two or anyone else on the show, is there no openly, canon, LGBT pony. And I know, there are other shows out there with positive depictions of LGBT characters. I'm just saying, not everyone who watches those shows watches MLP, where they would like a positive depiction of an LGBT character.
Now, there might be some of you out there saying "But wait, Jyger85! There IS an LGBT couple on MLP!" Well, first off, you can call me Jeff, we're all friends here. And second off, NO. That is not canon. You THINK it is, and I not only know why you think it is but actually agree that it should be, but it isn't. And for those of you wondering what I'm talking about, I'm talking about Lyra Heartstrings and Bon Bon…or Secret Agent Sweetie Drops, or whatever her name is now. lol Point is, these two have been background ponies showing up together for YEARS now, but anytime they've talked, they keep saying they're best friends, and according to the MLP wiki…
"Sweetie Drops frequently appears with Lyra Heartstrings, which has been explained by a layout artist to be mostly coincidental and based on aesthetic considerations, as far as season one is concerned". However, here's why a lot of people think these two are a couple…
Admittedly, fans of a show will sometimes try to dig deeper to try and see if there are elements of the story and characters beyond what is shown to us, and will oftentimes ship people for reasons others might not be able to see.
There's a list of evidence on TV Tropes showing all the reasons presented in the show why fans might believe these two are a couple (among others, lol), but for me, it boils down to one episode: Slice of Life. Listen to their dialogue in that episode, watch their body language and facial expressions, and listen to the emphasis they put on the words "best friends", hammering it in to the point of sounding forced, and tell me that these two do not come off even the SLIGHTEST bit as a couple.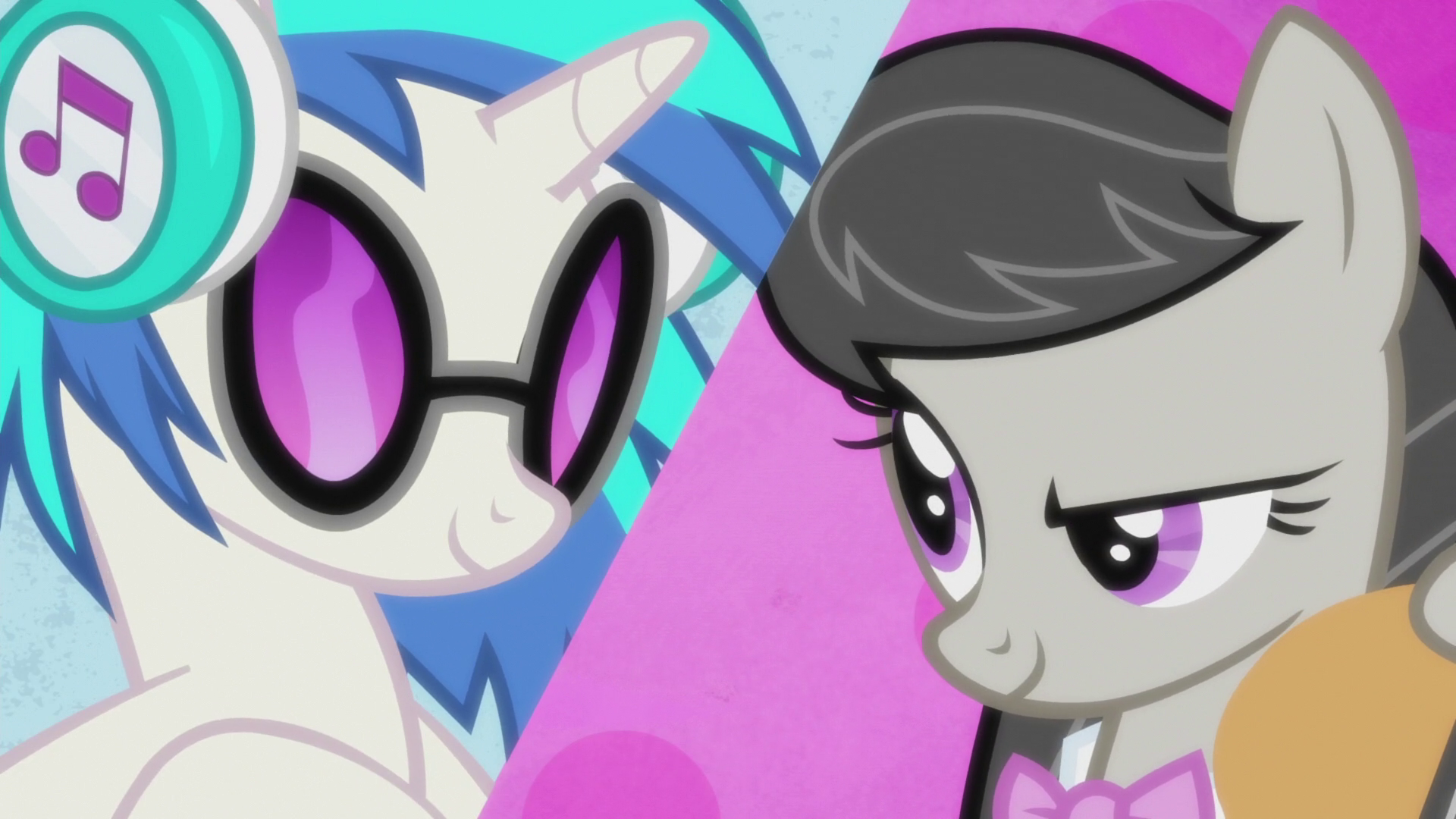 What's hilarious, though, is that, in the same episode I just mentioned, we find out that DJ Pon-3 (once known as Vinyl Scratch) and Octavia Melody actually live together. Now, whether they're just room-mates or a couple has never been made canon. My own thoughts? Well, I don't know if I believe in the romantic pairing of these two, but they are most definitely a pair, and one I'd love to see playing off each other in the future. Still, I wouldn't mind if these two came out.
But back to Lyra and Sweetie Drops. Personally, here's what I would do. You have the finale (whether it's a season finale or the series finale, I don't know, but maybe it'd work better if it were the latter) include a scene where the Mane 6 are running through Ponyville. They're running in great urgency to stop something, and it's a very pulse-pounding affair, and you see everything in the background rushing by, and at one point, they run past town hall, where you see the two exiting right after getting married. That's how I would out those two, and here's why: Because a lot of fans love to watch the background and freak out over stuff they see in it, and I guarantee that would get a TREMENDOUS reaction. Just have it in the middle of the episode, and watch what happens. lol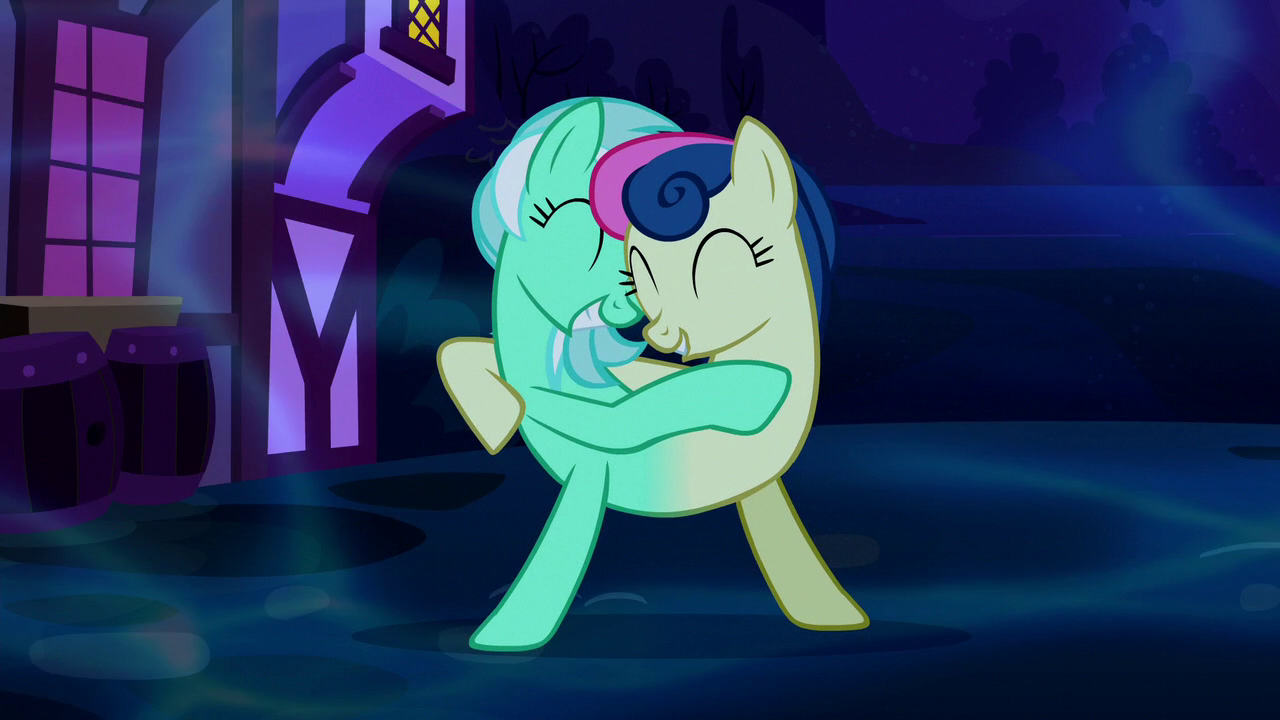 Anyway, that's all I had to say about this. Lemme know what you all think in the comments, and keep watching the background, because you never know what might pop up. Ja né!
…Well, it's been a while since we've talked about Zelda on this blog, hasn't it? 😛 And what better time to make up for that than right here. Now, keep in mind, as I'm typing this, I haven't been watching Nintendo Treehouse for more info, as it's one of those things where, if you didn't watch from the beginning, you're pretty much screwed, so I'm basing this article solely on the trailer. When the whole thing is posted as a single, viewable video, I'll check it out and see what I got right. For now, though, here's the trailer…
… … … …HOLY HYLIA. O_O So, let's go ahead and get the obvious thing to do with this trailer out of the way: Figuring out where this takes place in the timeline. Well, we can very clearly spot the Bridge of Eldin in one scene, so as it pertains to the fork in the timeline, that tells me that this takes place in the same line as where Link went back in time, warned of Ganondorf's plans, and thus Ganondorf was tried and executed for his crimes against Hyrule…well, or so people were led to believe, anyway. Granted, Hyrule has obviously gone through some changes since then, but then again, Hyrule in Twilight Princess looks different from how it did in Ocarina of Time, so it's not too big a leap to suggest that this is the same Hyrule, only that things have changed in the time between the games. We see the Master Sword in the woods, which admittedly could be either the Lost Woods from A Link To The Past or the Sacred Grove from Twilight Princess, but regardless of which one it is, the place has clearly been overgrown by grass quite a bit.
Speaking of, the next thing I'm left to guess at is that a LONG time has passed between Twilight Princess (assuming I'm right about the timeline placement) and Breath of the Wild. What makes me say that? Well, a few things. Specifically, Hyrule seems a lot more lush when it comes to plant and wildlife than it did previously, and we don't see ANYONE else in the trailer other than Link. That tells me one of two things happened: Either the Hylians all eventually moved on to new lands, leaving Hyrule to the other creatures that inhabit it, or there was some sort of disaster that occurred and that there are very few Hylians left. Naturally, I could be wrong in either case, and that Nintendo simply hasn't shown off the Hylian settlements in the game yet, but I don't think I am. Why? The title of the game is Breath of the Wild. Between the title and the gameplay, this game clearly has an emphasis on Link having to survive in the wilds with few to no one around to help him. We hear a voice in the trailer, but it doesn't sound like she's anyone who is talking directly with Link, instead being telepathy, or simply some other kind of voice in his head.
On the subject of Link, something odd I noticed during this trailer is that, at no point in it, do we see Link in his trademark green tunic. Instead, we see him in a lot of other kinds of clothes and even armour at one point. This seems to suggest that either Link will find different full outfits to wear along the journey, or that attire customization is going to be a thing in this game. Personally, I'm kind of hoping for the latter, but again, why the lack of the green tunic? Well, the tunic seems to be connected to the Hero of Hyrule, the one who saved it from evil, and thus is why Link wears it in his every incarnation, as he is destined to become the hero. So, why doesn't he wear it here? One possibility is that he isn't the hero in this game, or perhaps that he simply hasn't earned the right yet. But there is one other thing to point out, as it pertains to the Hero of Hyrule: His weapon of choice, the Master Sword.
As we see in the trailer, the Master Sword is rusted and cracked all over. Now, why would this be? It's been thousands, if not MILLIONS, of years since Skyward Sword, when the Goddess Sword was transformed into the Master Sword, and not once has it ever been shown to have this type of damage done to it. So why now? This would SEEM to suggest something very wrong has happened to it and/or to Hyrule. We know that monsters are not only roaming the land, but now have encampments and are much more organized, that there are massive Guardians around Hyrule, and that Ganon apparently plays a role in this game, but what does that indicate? Has Ganondorf finally taken over and gotten revenge? Has the Master Sword simply become too damaged because of the growing evil in the lands? Could something have happened to the link (pun intended) between it and the line of the hero? And where does that leave Link? Is he a survivor of a group that were hiding out in Hyrule and is now on his own, or some kind of explorer that's returned to Hyrule to determine what's happened after so long?
Well, right now, we have no answers. All we can do now is speculate as we wait for more details to arise between now and its release next year on the Wii U and NX. Still, lemme know what you all think of the trailer, as well as my ramblings, and we'll see what comes up between now and the release of The Legend of Zelda: Breath of the Wild. Ja né!