Blog Archives
So, being a huge Kingdom Hearts fan, I was hyped as all heck when, on June 10th, 2013, during E3 that year, we finally got the following:
For years, we'd been waiting patiently for this game to be announced after we'd played through side games and prequels, and finally, we had confirmation that it was coming. So, when was the game going to come out? Didn't know. All we knew was that it was being worked on…which we kinda already knew, and that development had been held up because the same team had been working on Final Fantasy XV (then known as Final Fantasy Versus XIII), but hey, at least we finally caught a glimpse of it. Two years later, that glimpse was expanded upon.
YEAH, now we're talking! So, when is the game coming out?! 😀
…MOTHER FUCKER! Yup, even after all this waiting, we still don't have a solid release date. However, we then learned from the game's director, Tetsuya Nomura, that there would be "news (and) new announcements" about the game at the Japan D23 expo in November, where he hoped to debut additional footage and content that was cut from the E3 2015 trailer due to time. And, in fact, on the 3rd of this month, we did get a trailer for KH3. Great! So, where's the trailer? NOT AVAILABLE. Why? I don't know. Apparently, it was shown exclusively to the people at the expo, who were told not to film the trailer, and everyone else was told that the official release of the trailer shown then was "To Be Determined", which means there actually is no official release date for the trailer, because they don't know when they're going to show it to us. Of course, for all I know, that means the trailer could be posted as soon as I'm done writing this…although I wouldn't count on that. lol
Now, with that said, I may not have the trailer, but I do know what happened in it, because I read the spoilers on KH13.com. And yes, a lot of what I read sounds very impressive. However, what I wanted to read most was the release date. Why am I so obsessed with that? Because Kingdom Hearts II originally came out in Japan on December 22nd, 2005. 2005! We're less than two months away from ten years since that game was first released! For a decade, all anyone who enjoyed the Kingdom Hearts series has wanted to do was play Kingdom Hearts III, but we couldn't for reasons that relate to Square-Enix's priorities and that the new Final Fantasy game was a top priority to them. You wouldn't think so, given how the last few FF games have gone, but it is, and thus we've had to be satisfied with side-games and prequels. Now, I will give this much: Birth By Sleep was probably always gonna be a thing, regardless of how plans went with the series due to waiting until KH3 could be done, and is a worthy prequel story that helps set up what we can expect in the next game. Also, while not 100% necessary in the grand scheme of things, 358/2 Days also had a good story that helped fans to learn of Roxas' tragic life, and while held back a bit by the limitations of the Nintendo DS nonetheless plays pretty well. However, there was NO reason for Kingdom Hearts Re:coded, aside from the last chapter that, honestly, could've been done better and differently, and I don't know why Kingdom Hearts χ is a thing. The odd one out in that line-up is Dream Drop Distance, which I can't seem to decide if it makes for a worthy interquel like Chain of Memories before it or if it was another unnecessary side-game pushed out to satisfy fans. On the one hand, I DID really enjoy the new gameplay mechanics introduced, the revelations in the final parts of the story help to set up the conflict in KH3, and it was nice that it introduced a ton of new worlds we'd never been to. On the other hand, though, the story elements that actually matter could've been part of KH3 with little in the way of altering things, there were still locations we'd been to before present again (albeit with new additions to them), and from the looks of things, those same gameplay mechanics look to be made part of KH3's gameplay anyway. Really, it just comes down to when you ask me.
Regardless, it's safe to say that I've become more than a bit obsessed with learning the release date of Kingdom Hearts III. So, when I found info on the new trailer, I thought "Well, it's been ten years, they're no longer bound by the same issue revolving around FFXV, and this trailer is specifically going to contain visuals and info that didn't make it to the E3 trailer". As such, I read the details, looking forward to seeing that rele-MOTHER FUCKER!!! That's right, STILL no release date! Oh, but you wanna know what DOES have a sort-of confirmed release date? Kingdom Hearts HD 2.8 Final Chapter Prologue…Okay, we were pushing it with some of the titles before, but there is NO WAY you can take that game's name seriously. Seriously, bet yourself five dollars you can say that name without either cracking a smile or feeling somewhat agitated just by the title alone… … …You just lost five dollars, didn't you? lol But yeah, while we don't know EXACTLY when, we do know that HD 2.8 Final Chapter Prologue will come out next year, and that it contains an HD remake of Dream Drop Distance, a special cinematic about the Foretellers from χ, and a new playable 'episode' (meaning probably a single world/level) starring Aqua and taking place sometime after Birth By Sleep. Ten years later, and Square-Enix is still making side-games.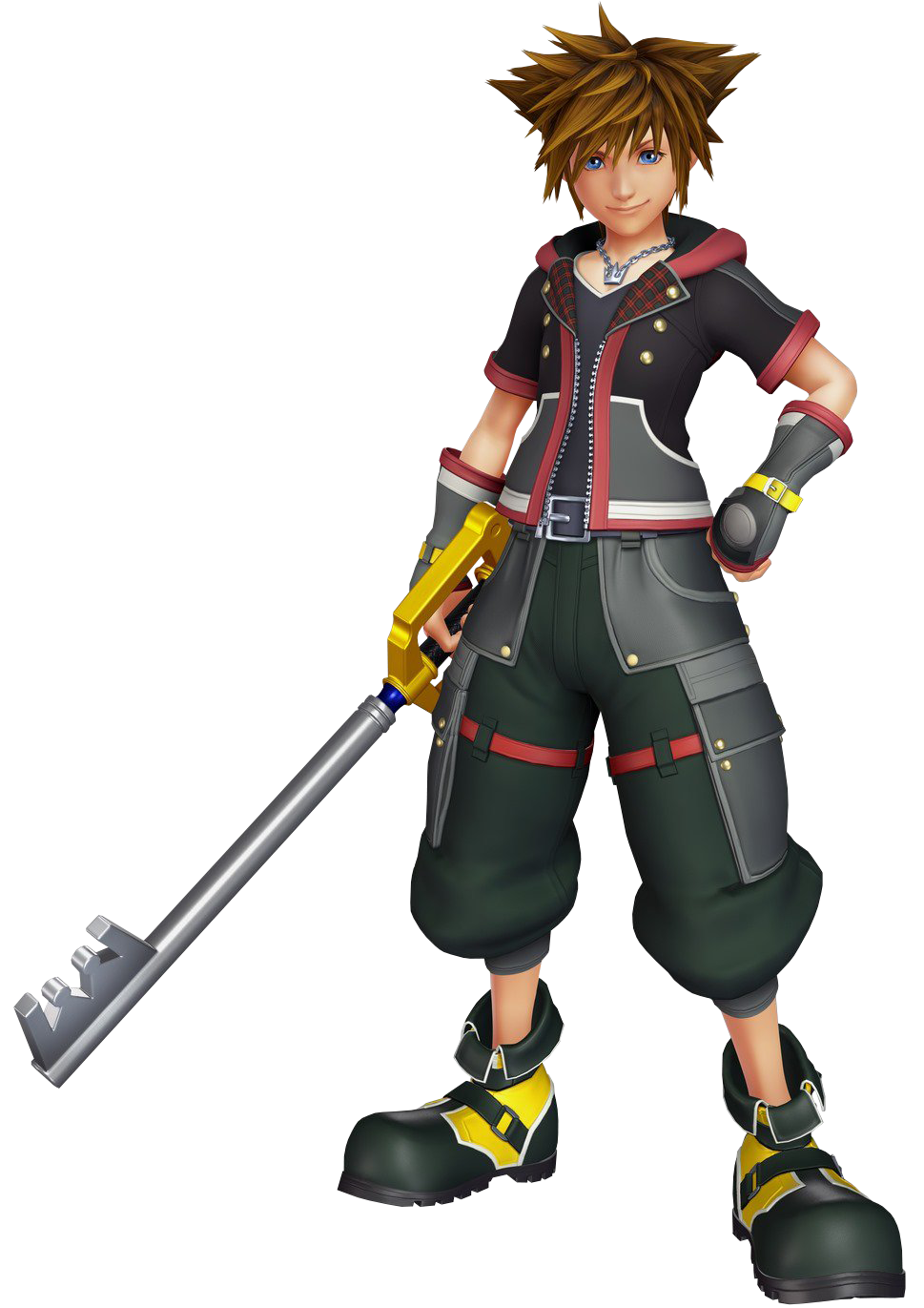 Now, I don't want anyone to come here and say that I just don't get it, and that I think there's no reason for the hold up. Of course there are reasons. Up until recently, the same team making KH3 was working on FFXV. Because of delays, the game has gone through drastic redevelopments, since I'm pretty sure they initially were thinking of doing it for PS3, and I know for a fact that they switched gameplay engines at least once so far. Plus, the people working on it beyond the developers have other projects they wanna do, and some have even died and had to be replaced. And no, I don't know if Leonard Nimoy or Sir Christopher Lee got into a recording studio to do their lines for the game before their tragic passings this year. The only person I know that finished recording all their lines for the game was Bill Farmer, the voice of Goofy, who is admittedly a main character in that he'll be following Sora throughout the game. I get that there's all kinds of reasons for why this game has been held up. What I'm saying is that it's been held up for ten years and counting, and that is absurd! Duke Nukem Forever only has that beat by five years, and that gap is only gonna continue to shrink if something isn't done to get this game back on schedule in a hurry!
The other problem the hold-ups have is that, because of all the side-games being released and all the plots being introduced, there's no way that the start-to-finish story originally thought of for Kingdom Hearts III is the same as it once was. Oh sure, because I truly believe Birth By Sleep was always going to be a thing, then I can buy that this game would revolve around the return of Master Xehanort and trying to restore Terra, Aqua, and Ven. However, beyond that, we now have the following plot points going into KH3:
The fates of Roxas and Naminé, which honestly didn't need development past the resolution in KH2, and of Xion, who was introduced in 358/2 Days.
Lea and Kairi's training as Keyblade Wielders to try and catch up with Sora and the others.
What's going to happen with Lea and Isa now that Isa is working for Xehanort.
There are now THIRTEEN Xehanorts instead of just the one, some of which are past characters with pieces of his heart placed in them in through an ability we didn't know could be done, and we still don't quite understand how Xehanort pulled all this off, other than it involves Square-Enix's favourite type of story: A time-travel mess with LOTS of dei ex machina involved. They now form a NEW Organization XIII, and are the main antagonists.
Maleficent trying to steal the Datascape, and the connection it has to the Book of Prophecies.
The data that Ansem the Wise left in Sora's heart while he was sleeping, and the fact that he's apparently still alive, too.
That's a LOT to pack into a single game, and that's not even including ongoing stories within any worlds that will be returning! We've also had a number of retcons introduced, like the purpose of the Organization, the true nature of Nobodies (although I can KINDA believe that might've been planned from the start…maybe), and the fact that…well…King Mickey is one of the biggest liars-by-omission EVER. lol How much has he failed to tell ANYONE about past events that would've been handy information to have if he'd just said anything? Now, of course, the reason he didn't tell anyone is because, at the time, it hadn't been conceived of by the people making the games. However, by introducing these plot elements and having him take part in them, he nonetheless comes off as someone who has been withholding valuable information and lying his ass off about stuff for YEARS. Just saying, I don't think they thought this all the way through, and have kinda painted Mickey Mouse in a rather disturbing new light if you think about it long enough.
Now, the last thing I wanna say is, I'm not saying all of this because I hate Kingdom Hearts now, or that I'm announcing my refusal to get Kingdom Hearts III when it comes out (provided I own a system it's available on at some point). I still love Kingdom Hearts. THAT'S the reason I'm saying all of this, because the next real entry in the game has been in a level of development hell that few games have entered, and the most infamous of which came out of in VERY bad condition, and I don't want that happening here. I want whatever bullshit is holding up progress to be dealt with. Ten years is long enough.
Anyway, lemme know what you all think in the comments, and hopefully, we won't have to wait long until more information is made available to us. If nothing else, I'm holding out hope that we'll get something solid at E3 next year. Until then, all we can do is wait, and keep counting the stars, hoping that, one day, we'll count that last one that leads us to our destination. Ja né!
So, as many people probably know, I'm a big fan of the show Death Battle, wherein two characters (usually fictional with few exceptions) are set against each other in a fight to the death. Of course, because some characters involved do not kill usually (Batman and Superman, for example), these fights are actually 'simulations' with all personality traits intact but that. Also, the fights take said characters from when they were at their peak ability, so that the hosts of the show can analyse the best of their weapons, armour, and skills. This is why Goku was unable to defeat Superman, as the whole point behind Goku's character is that he will always have limits he has to break, whereas Superman has no limits other than how much solar energy he's taken in at any given time, with a proven maximum potential of infinity.
However, despite the fact that the show has been around for five years and 54 episodes (not including mini-analyses, the spin-off shows Desk of Death Battle and One Minute Melee, or other such specials), there nonetheless are plenty of potential Death Battles that myself and many other fans have thought of and wanted to see in the future. So, I thought I'd go ahead and list five Death Battles I'd like to see, and as usual, if you can think of any I haven't listed, feel free to add them in the comments. So, let's start off with probably my most requested…
The battle of the master swordsmen who, while lacking size, nonetheless are incredibly powerful and skilled. Really, this fight would more or less come down to one major point: Which is stronger, King Mickey's magic or Yoda's mastery of The Force? Because I suspect they're equally matched in swordplay, and while it can usually cut through most anything else, I doubt the Lightsaber could just as easily slice through a Keyblade. Either way, though, this would likely be a fast and furious battle with lots of insane acrobatics.
Pokémon vs Digimon. It has to happen at some point or another, and I feel these two are the best choices. With that said, there's a couple of points that could work in either mon's favour. Using Digimon logic, as Mega Charizard X is part Dragon-type, WarGreymon's Dramon Killer claws should be highly effective on it. On the flip side, though, using Pokémon logic, because WarGreymon is covered in metal armour, Mega Charizard X's Fire-type attacks should work well against it.
Battle of the fan characters! And yes, I know Nazo's design is based on a potential transformation of Sonic's from the Sonic X pilot, but the fan community has since made him into something completely different. Really, this would pretty much by design be more of a joke battle, but an epic one nonetheless. Plus, I just really wanna see Team Four Star's Demon God of Love step into Death Battle. lol
Yes, I know we just had one of the cast of RWBY duke it out in a Death Battle, but honestly, I think I'd like to see these four in a battle not unlike the Ninja Turtles' 4-Way. Mind you, something tells me we MIGHT be seeing something akin to this in the new season, but I doubt very much it'd be a fight to the death, for obvious reasons. However, with that said, there's one other Battle Royale I'd love to see someday…
Again, probably would have to be a joke battle that doesn't involve any real analysis, because otherwise, it would take FOREVER to decide a winner. But yeah, I would love to see every single Death Battle winner step into the ring to determine who would win one final Death Battle. And Superman wouldn't even necessarily win for being the strongest, since he'd be facing opponents like Spawn, who could hurt him very easily. In fact…ah, screw it. lol
Yes, Superman's powers make him a near-unkillable being who really shouldn't be in one-on-one match-ups with no prep time involved like Death Battles…usually. However, Spawn is a different story. His powers range from the magical to the demonic, and Superman lacks any kind of protection against magic-based attacks and weapons. So really, it comes down to a simple question: Is it possible for Superman to gather enough solar energy to cancel out Spawn, or are Spawn's abilities simply the best possible offense to the Man of Steel?
Anyway, those are five…well, technically SIX Death Battles I'd like to see. Got any I didn't post? Add them in the comments section, and who knows? Maybe Ben and Chad will see this and add them as future Death Battles. Ja né!
…*sighs* Okay, I'll do it. IT'S TIME FOR A DEATH BATTLLLLLLLLLLLLLLLLLLLLEEE!!! XD