Blog Archives
Earth's Mightiest Heroes might have a little teen drama to deal with. Here's the preview for All-New, All-Different Avengers #3!
Warbringer has made good on his name, and the All-New Avengers stand poised to yank defeat from the jaws of victory unless they can put their differences aside–and in the case of Ms. Marvel and Nova, that doesn't seem very likely!
http://www.comicbookresources.com/comic-previews/all-new-all-different-avengers-3-marvel-comics-2016
Part two of the origins of the newest Avengers team of all comes out this week, so here's an early look at it! It's All-New, All-Different Avengers #2!
The Avengers are dead–long live the Avengers! Earth's Mightiest Heroes–Captain America, Thor, Vision, and Iron Man–are living separate lives, not tied to any team–but when a threat from beyond the stars targets our world, fate draws them together once more, alongside Nova, Ms. Marvel, and Miles Morales a.k.a. Spider-Man!
http://www.comicbookresources.com/comic-previews/all-new-all-different-avengers-2-marvel-comics-2015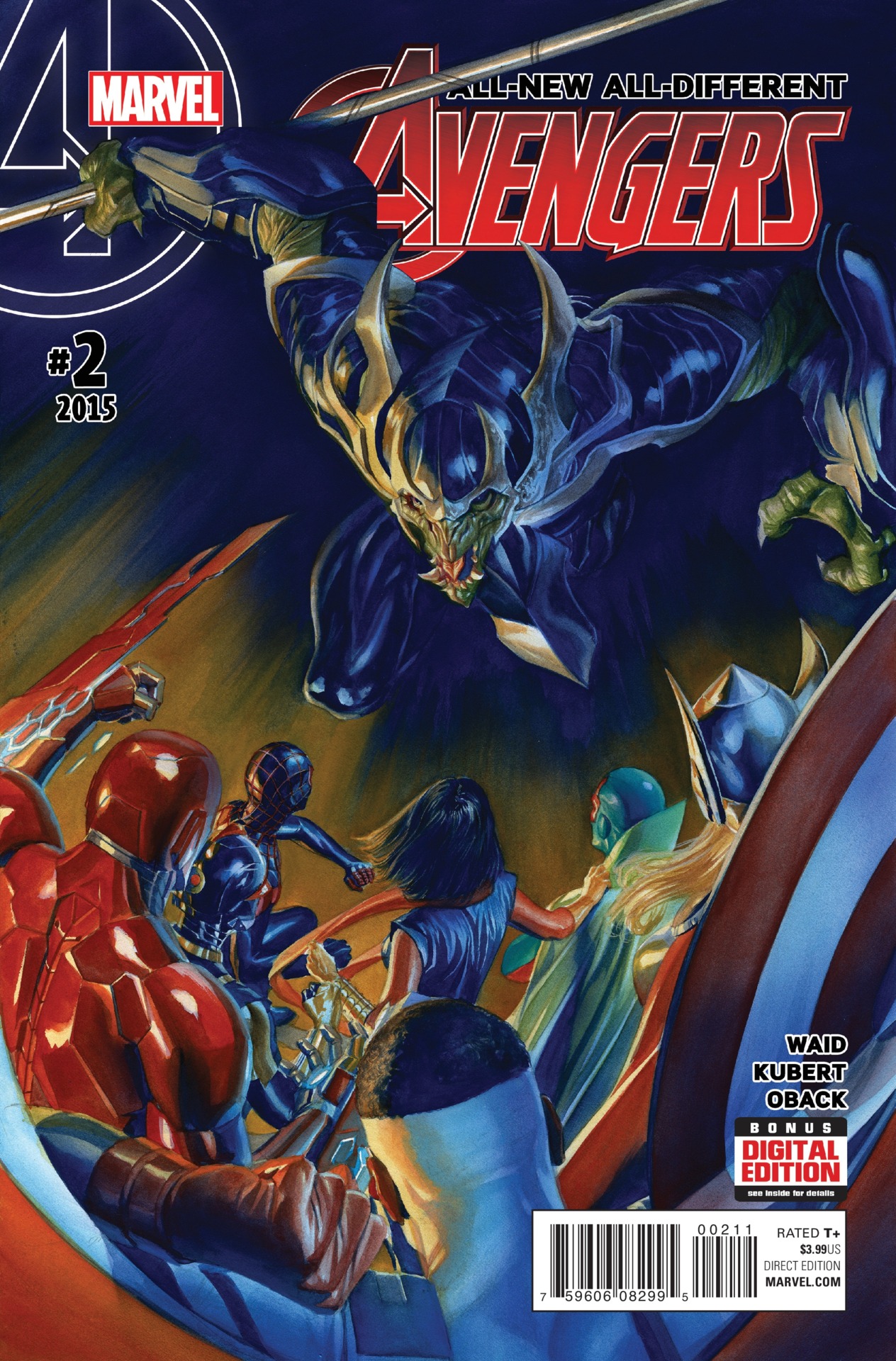 Well, doesn't look like we'll have to wait for May after all. Ladies and gentlemen and others, I present the All-New, All-Different Avengers. 🙂
So, going by this, the team consists of Ms. Marvel (Kamala Khan), Ultimate Spider-Man (Miles Morales), Nova (Sam Alexander), Vision, Captain America (Sam Wilson), Iron Man (Tony Stark?), and Thor (we'll find out in a month or two). So clearly, several big changes to Marvel's roster, particularly their big names, are sticking for some time to come. The one big question mark, however, is on Iron Man. Currently, Tony Stark is evil, having been inverted by the events of AXIS, and wearing an all silver suit. So, the question now is, does Tony become a good guy again and ditches the Superior Iron Man suit, or is someone else wearing the hot rod red and gold? Also, one has to ask about Miles. If he's on the Avengers as Spider-Man, what does this mean for Peter? Has he retired, or are they both operating as Spider-Man?
Regardless of the answers to these questions, this nonetheless looks to be a great, well-balanced, and powerful team to be representing Earth's Mightiest Heroes. Now, for those out there that are screaming and accusing Marvel of pandering, insisting that we bring Steve Rogers and Thor Odinson back, and that the others are little more than Marvel trying to make a buck and stuffing various minorities down our throats, I have a piece of advice: Think about how the real world works. And I know, Marvel comics take place in a world very much unlike the real world, but we the readers don't have that. We live in a world with multiple races, religions, and nations. Marvel is trying to reflect that very real fact. They're trying to be more inclusive to various minorities. That's why we have a female Thor, an African-American Captain America, a Pakistani-American Ms. Marvel, and a Black Hispanic Spider-Man. And besides that, if I know Marvel, this won't be the ONLY Avengers book out when Secret Wars ends, so don't be surprised if we see another one that DOES have Steve Rogers and Thor Odinson on the team. But yeah, ultimately, this is about change. Will this change be permanent? Who knows? But for now, these are the faces of the Marvel Universe. And ultimately, it's like Superboy once said: "It's simple. Either get on board, or get out of the way."
Anyway, that's my two cents on the new Avengers team. What do you all think, though? Lemme know in the comments below, and let's all at least be willing to give this team a chance to impress us come Free Comic Book Day. Ja né!