Blog Archives
…Yeah, I'm just gonna come out right here and say something: This article is about My Little Pony: Friendship Is Magic, and talks about whether we should have an LGBT pony. If that doesn't appeal to you, do us both a favour and don't read. Don't read, don't comment, and I will have no problems with you whatsoever. I know it can be seen as a strange subject, and even if not strange, if there's one universal constant I've found in my lifetime, it's that nothing is for everybody, so no hard feelings, really.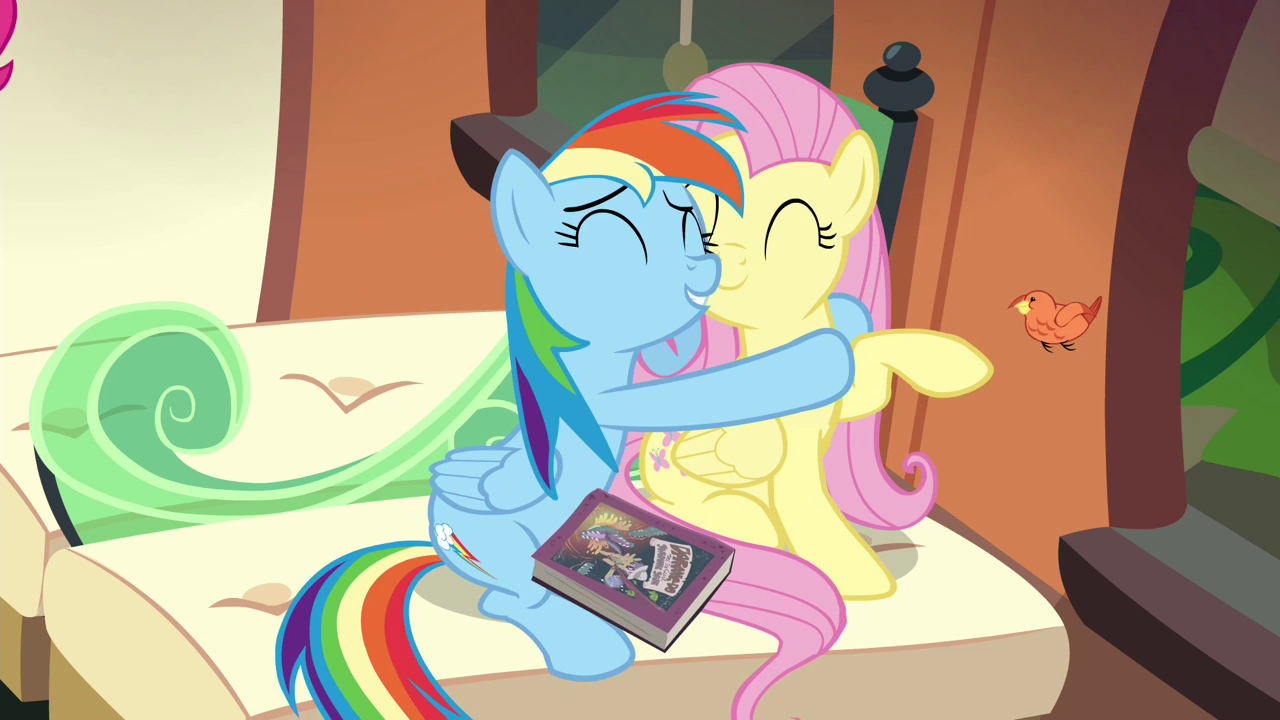 So, something caught my attention a while ago. Apparently, there was a writer working for IDW who said that Rainbow Dash and Fluttershy being in a romantic relationship should be canon. I'm not gonna get into that discussion much more, other than stating that, despite being an outed Flutterdash shipper in the past, I know that having the obvious tomboy and the introvert come out as a couple could be seen as a stereotype. Rather, instead, I find myself wondering why, whether it's these two or anyone else on the show, is there no openly, canon, LGBT pony. And I know, there are other shows out there with positive depictions of LGBT characters. I'm just saying, not everyone who watches those shows watches MLP, where they would like a positive depiction of an LGBT character.
Now, there might be some of you out there saying "But wait, Jyger85! There IS an LGBT couple on MLP!" Well, first off, you can call me Jeff, we're all friends here. And second off, NO. That is not canon. You THINK it is, and I not only know why you think it is but actually agree that it should be, but it isn't. And for those of you wondering what I'm talking about, I'm talking about Lyra Heartstrings and Bon Bon…or Secret Agent Sweetie Drops, or whatever her name is now. lol Point is, these two have been background ponies showing up together for YEARS now, but anytime they've talked, they keep saying they're best friends, and according to the MLP wiki…
"Sweetie Drops frequently appears with Lyra Heartstrings, which has been explained by a layout artist to be mostly coincidental and based on aesthetic considerations, as far as season one is concerned". However, here's why a lot of people think these two are a couple…
Admittedly, fans of a show will sometimes try to dig deeper to try and see if there are elements of the story and characters beyond what is shown to us, and will oftentimes ship people for reasons others might not be able to see.
There's a list of evidence on TV Tropes showing all the reasons presented in the show why fans might believe these two are a couple (among others, lol), but for me, it boils down to one episode: Slice of Life. Listen to their dialogue in that episode, watch their body language and facial expressions, and listen to the emphasis they put on the words "best friends", hammering it in to the point of sounding forced, and tell me that these two do not come off even the SLIGHTEST bit as a couple.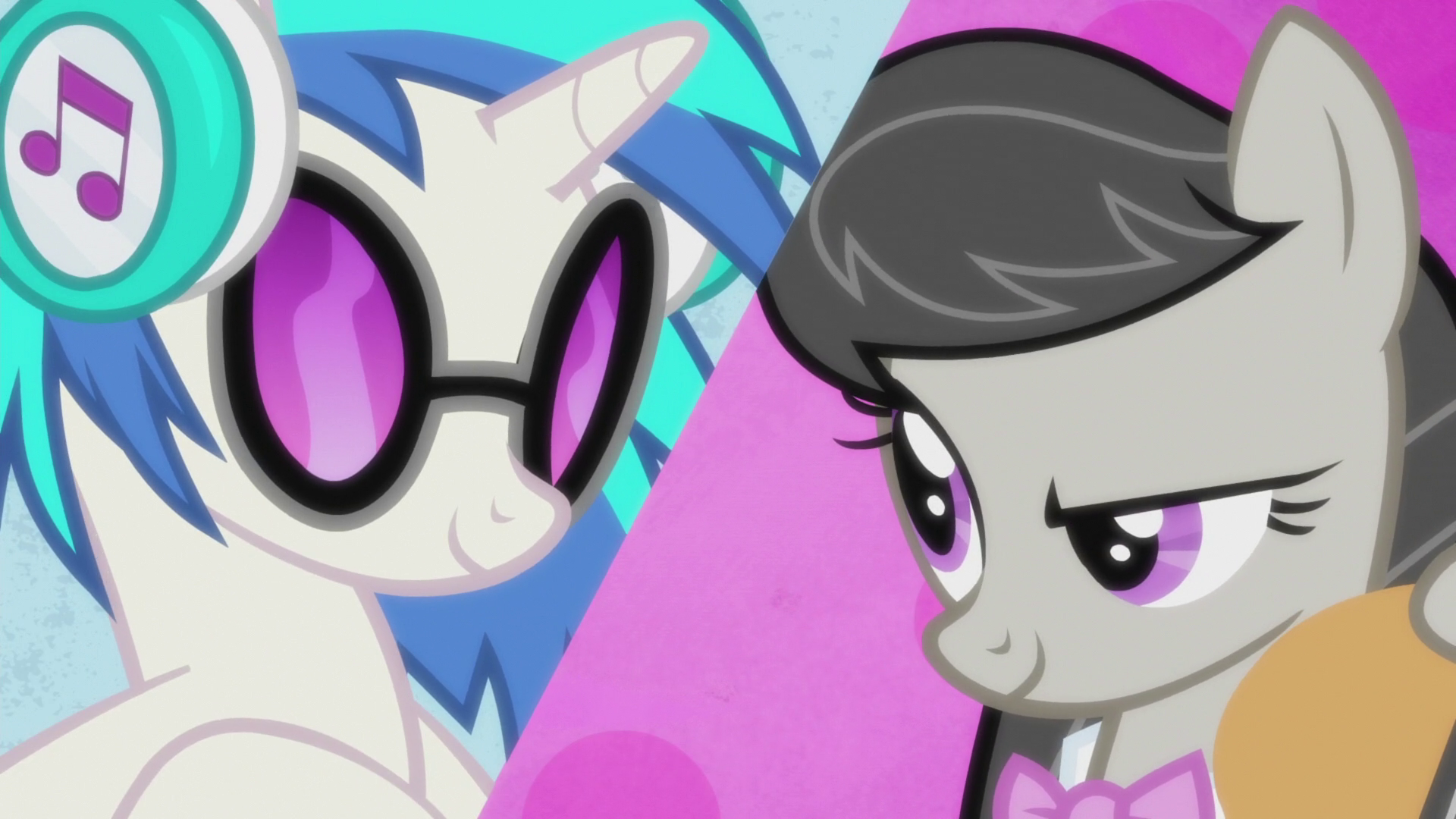 What's hilarious, though, is that, in the same episode I just mentioned, we find out that DJ Pon-3 (once known as Vinyl Scratch) and Octavia Melody actually live together. Now, whether they're just room-mates or a couple has never been made canon. My own thoughts? Well, I don't know if I believe in the romantic pairing of these two, but they are most definitely a pair, and one I'd love to see playing off each other in the future. Still, I wouldn't mind if these two came out.
But back to Lyra and Sweetie Drops. Personally, here's what I would do. You have the finale (whether it's a season finale or the series finale, I don't know, but maybe it'd work better if it were the latter) include a scene where the Mane 6 are running through Ponyville. They're running in great urgency to stop something, and it's a very pulse-pounding affair, and you see everything in the background rushing by, and at one point, they run past town hall, where you see the two exiting right after getting married. That's how I would out those two, and here's why: Because a lot of fans love to watch the background and freak out over stuff they see in it, and I guarantee that would get a TREMENDOUS reaction. Just have it in the middle of the episode, and watch what happens. lol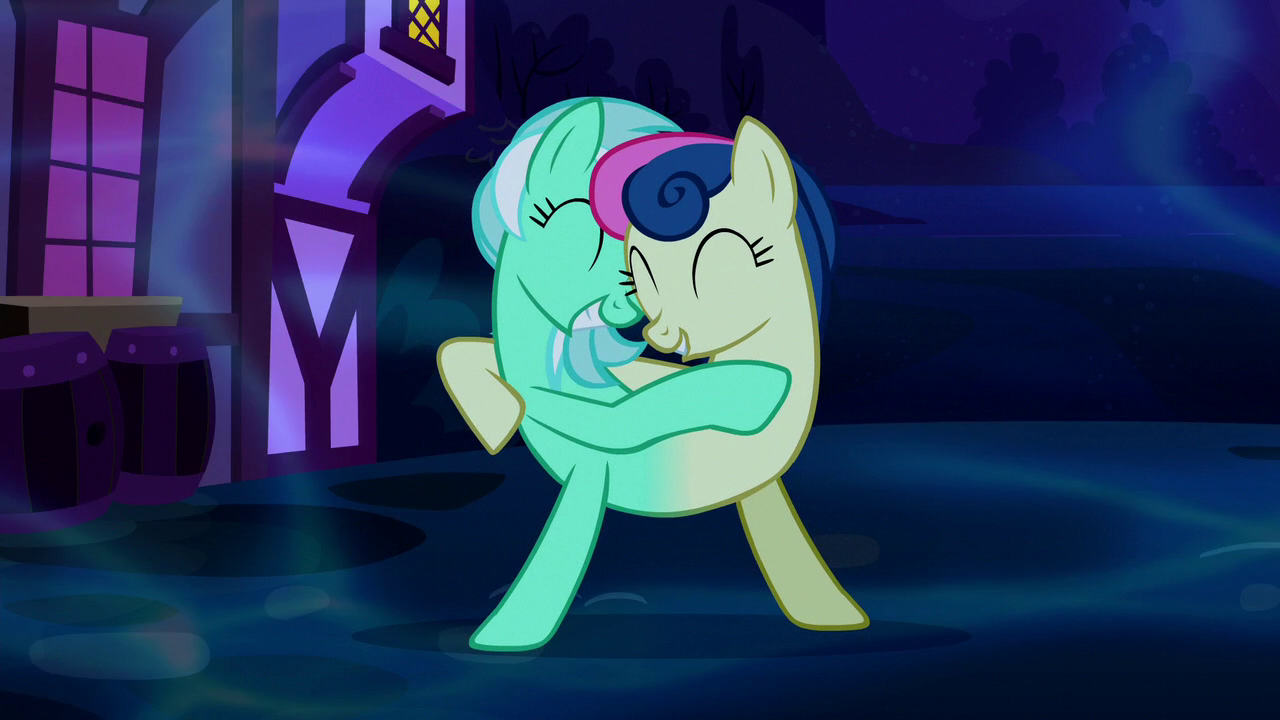 Anyway, that's all I had to say about this. Lemme know what you all think in the comments, and keep watching the background, because you never know what might pop up. Ja né!