Blog Archives
So, I've been thinking lately about ways DC could keep things interesting in their comics. More often than not, their ideas include reboots or big epic crossover events or stuff like that. And not to say that plan doesn't work, but I don't really think it's necessary all the time. Instead, I had another idea on how to shake things up: Rotate villain rosters a little. Add variety to the different antagonists that show up in the books. Give us some new dream matches of heroes vs villains we either haven't seen before or don't see often.
For example, let's say that some of the villains in Gotham City actually wised up and realized "Hey, this city sucks and Batman is always kicking our asses! Let's leave this shit-hole!" Like, what if Poison Ivy decided to find her own home away from everyone to continue her research and whatnot, only to accidentally end up on Themyscira and become a recurring character in the Wonder Woman books? Or if Penguin realized he had an opportunity to become the kingpin of crime in Star City and thus became a villain in the Green Arrow books? Or Bane could go to Detroit to test the power of muscle (with illegal strength enhancement, lol) against metal by fighting Cyborg in his book? And none of these would HAVE to be permanent, so those worried that Batman would lose some of his precious and continuously expanding villains roster wouldn't need to panic.
But hey, Batman's not the only hero with villains to go around. And maybe everyone could just kinda swap one or two with another. Maybe Parasite could go try to absorb Flash's connection to the Speed Force or Shazam's incredible strength. Perhaps the Injustice Gang could try their luck at their enemies' teenage counterparts, the Titans? Conversely, what if the Justice League had to engage in a battle of wits and strategy against arguably the devil himself, Trigon, to keep him from rising? What if Nightwing was forced into a situation where he'd have to occupy space with the man who killed him, Lex Luthor? Or hell, why not have Deathstroke, a guy with a healing factor, fight Cyborg, an old enemy from pre-Flashpoint and a guy whose body was saved by technology?
Lastly, there're a few villains that haven't appeared in a really long time that could be brought back under the right circumstances to fight new heroes. What if Composite Superman returned to fight the Super Sons, Jon and Damian? Perhaps Roxy Rocket could decide to try her luck at becoming a Green Lantern and become a rogue for Jessica Cruz? Or hey, Wally West is back now; how about bringing back Inertia as a rival for him?
Anyway, that's all I got for now. If you think of any other good ones, lemme know in the comments. Ja né!
Well, despite the fact that there were no comics that I wanted to check out this week, I am still here to talk about…
Don't worry, I didn't forget this time. I just wanted to wait a day before I gave my thoughts, since this is not a comic or movie, it's a video game. Let's take a look at Scribblenauts Unmasked: A DC Comics Adventure for the Nintendo 3DS!
So the game begins with two siblings, Maxwell and Lily, who are the main protagonists of the game. They're currently engaged in a dispute comic book fans always seem to have at one point or another: Who is the better superhero, Superman or Batman? Well, they decide to find out, as both have very unique powers that can find the answer: Maxwell has a sketchbook that can make whatever he sketches real, and Lily has a globe that lets her and whoever she wants travel wherever she wants. So, Maxwell tears a page from his sketchbook, writes 'Gotham City' on it, and slaps it onto the globe, thus making the DC Universe real. However, in his excitement, Maxwell made a terrible mistake, as it seems the page he tore had something on the back: Doppelgänger, his evil twin, who aligns himself with the villains of the Justice League and goes on a rampage in Gotham, Metropolis, Oa, Atlantis, and more. Thus, the goal is to try to undo the chaos that Doppelgänger and the Injustice League creates.
The game works as many Scribblenauts games do: You control Maxwell and use his powers to solve different puzzles and scenarios, only this time, they're spread across several iconic locations in the DC Universe. There are a lot of ways to go about solving these, by creating items, summoning heroes, adjusting pre-existing objects and people, and more. Sometimes you'll have to do something very specific, while others can have multiple options with varying levels of reward. Many puzzles are non-mandatory, for the most part, but the only way to move on to new levels is to complete these puzzles and earn reward points. Fortunately, the non-mandatory ones are randomized, so if you don't like the ones presented, you can just leave the level and come back. Also, Superman villain Mister Mxyzptlk will occasionally present optional challenges when you enter a level that will limit what you can and can't do while there for that trip, but if you take him up on his challenges and succeed at solving the scenarios, they'll grant you additional reward.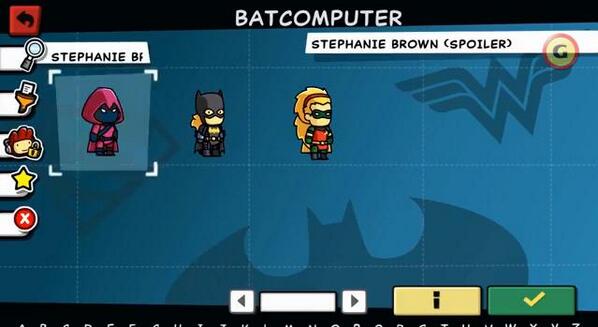 So, given that this is a crossover game with DC heroes, who all shows up? Just about EVERYBODY. Not only are there the major A List superheroes, like Wonder Woman, Batman, Superman, and Green Lantern, with multiple variations for many (although usually defaulted to their New 52 versions), but there are so many others in the game as well, and each with summaries of who these characters are for anyone who isn't familiar with them. And yes, the roster includes Stephanie Brown as Spoiler, Robin and Batgirl. Yes, it includes Wally West, Donna Troy, Helena Bertinelli, Cassandra Cain, Renée Montoya, both Aqualads, and so many more. Everyone should have at least one favourite hero in this game. Heck, even Linkara's favourite superhero of all time, Danny Chase, is in here. And that's just the heroes! You can summon villains too (although why you would ever want or need to, I have yet to discover), and yes, there are a crap ton of them too, with their own bios! This isn't just a game, it's a freaking encyclopaedia! I think there was only one or two moments where I searched a character and couldn't find them, and even then, the number that are in with their own unique assets kinda makes me forgive that pretty easily.
Now, I do have one complaint about the game, and it centres around the version I got. This game is also available for the PC and Wii U, and one of the features of the game that was promoted pretty heavily was the Hero Creator, where you can create your own heroes by mixing and matching parts of other heroes, colouring them to your liking, giving them their own unique powers, etc. And as you've probably guessed by now…yeah, it's not in the 3DS version. That was a MAJOR let-down for me, as I was planning to create versions of my own superheroes, The Hexagon, in the game.
I do understand what is the likely reason it wasn't put in the 3DS version, though: Putting in as many characters and variations of characters with their own unique powers that can be used for battles or puzzle solving, on top of a lot of the different stuff already in a standard Scribblenauts game, and even making copies of their weapons, gadgets, and costumes that Maxwell can create for himself, was pushing on the game's memory too much. Plus, you can make adjustments to heroes by summoning them and adding adjectives to them, like Fast, Flying, a different colour, stuff like that. And, the 3DS DOES have something unique to it, in that it has Streetpass support, here you can unlock hero costumes for your Mii. HOWEVER, all of that said, if it wasn't going to be in the 3DS version, they should have made that explicitly clear from the beginning. And I checked, I checked the crap outta news sites, and other than speculation, there was NOTHING solid either way.
Overall, though, while I feel disappointed in missing out on the Hero Creator, I am still enjoying the heck out of this game. If you're a fan of the Scribblenauts series, I think you'll really like this installment. Also, if you're like me and are a comic book fan that was curious about getting into Scribblenauts, I think this is the way to go. But hey, feel free to let me know what you think of the game in the comments section below.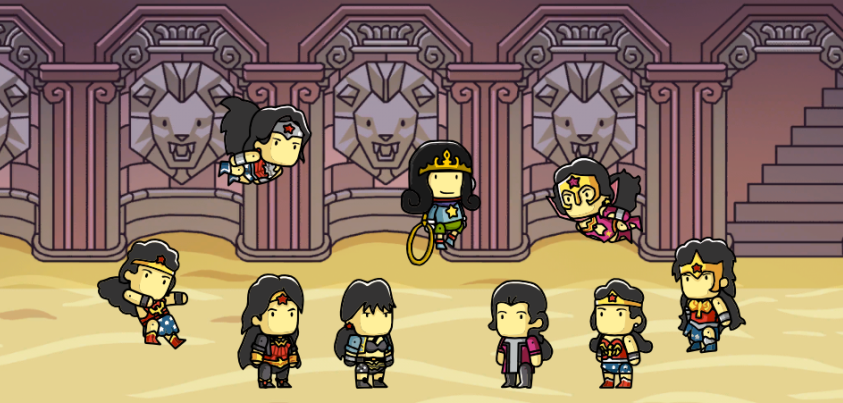 Anyway, next week is October, which means my regularly scheduled comics can start coming out again! So, be sure to check in as we venture to Earth 2 to see how the future JSA is getting along, and we check in on The Movement. Ja né!
Related articles
Here I am, once again, talking about How Would I Rebuild The DC Universe From Scratch. 'Cuz hey, you never know. I might decide to do a fanfic about one or more of these characters, or be a creative consultant for a web series, something like that. No way to know what the future might hold, y'know? So for this time around, I thought I'd talk about what I'd do with some of the landmark teams of the DC Universe. The Justice League, the Teen Titans, and so on. So, let's start with…
For the main team, I'd wanna take it back to being the Justice League of America, or the JLA. Of course, they would refer to it as the Justice League for short on occasion, but it'd be the JLA. As for what I'd do with it for a story, probably go back to Starro the Conqueror, except that it would be about Starro invading and the Big 3, the Trinity of Superman, Batman, and Wonder Woman not being enough to stop the invasion, and thus some of the new heroes (in this continuity, that is) would come to their aid, like The Flash, Green Lantern, or Cyborg. I'd probably include others, like Aquaman, Hawkgirl, Martian Manhunter, Black Canary, or Green Arrow, and have the book mostly focus on them stepping up to be on the same level as the Trinity while also fending off threats like The Legion of Doom, the Royal Flush Gang, the Black Lantern Corps, and Darkseid.
Teen Titans would probably go back to its roots a little bit as a team of mostly teenage sidekicks who band together to form a superhero team that responds to calls from teens in need. Obviously, Robin would be a must, as would Donna Troy as Wonder Girl. As for the others, Bunker would be a nice choice for the international flavor, his optimism, and his position as an openly gay teenage superhero. I think I'd wanna change his costume from purple and red to purple and green, though. Just looks better in my head. Jesse Quick would be a neat option too, especially as someone brilliant enough to tap into the Speed Force on her own. Other choices would likely include Aqualad (either one, really), Danny Chase, Hotspot, Bumblebee, Beast Boy, Argent, Damage, Starfire, or Artemis. Also, to reference his time spent with the team in The New Teen Titans, Cyborg would be acting as a mentor to the team as they battle the likes of Doctor Light, The H.I.V.E., Deathstroke, Harvest (only done smarter than in The Culling), and the Brotherhood of Evil.
I'd probably go with the standard government-controlled Justice League here, but with some changes. Specifically, the JLA decides they don't want the government to be afraid of them, so they elect one of their members to join. Of course, unlike the New 52 Justice League International, I think I'd want Wonder Woman on the team, representing Themyscira. Vixen would represent Africa, Congorilla would represent Scotland, Katana would represent Japan, Fire would represent Brazil, Ice would represent Norway, Booster Gold would represent Canada, Vibe would represent America, and Mera would represent Atlantis. They'd fight foes like the Injustice League (would have different members than The Legion of Doom).
With the Birds of Prey, I'd wanna combine them with the idea of the Justice League Dark. Basically, an all-female team that deals with supernatural threats. As such, members would be a combination of the two groups: Black Canary would be acting leader, Raven would join seeking to bring together a group to stop her father, Zatanna would become a member to try to track down her father, Batgirl and Spoiler would team up with them from time to time, and Pandora would join to try to find information leading back to her box…Not even close to what I mean, pervs. lol Their enemies would include Trigon's Sons, Vandal Savage, and Morgaine le Fey.
Basically, the Justice Society of America, or JSA for short, would be the first superhero team, existing prior to Superman and the others. Their members act as inspirations for the current crop of heroes, and in some cases, direct predecessors. They would consist of characters from the original JSA, the All-Star Squadron, and some of the other Earth 2 characters to appear since. The original Flash, Jay Garrick, hence why Wally chooses that name for himself. The Atom, Al Pratt, would be the father of Damage, and would have his atomic punch, the ability to turn giant like Atom Smasher, and the ability to shrink like the modern Atoms like Ray Palmer. Liberty Belle, Libby Lawrence, would be Jesse Quick's mother, and Jesse would get her increased strength and stamina through her mother's genes. Batman, Thomas Wayne, would be Bruce Wayne's father who was a member EXTREMELY briefly. Others could include Doctor Fate, Hippolyta, Zatara, Sandman, Hawkman, or Doctor Mid-Nite.
Anyway, that's all for the superhero teams. Next up, the villains! Ja né!
Related articles